The history of Rajanukul Institute
In 1960, Mental Retardation hospital has been approved as one projects under National Economic Development of Mental Health Division, Medical Department, Ministry of Public Health. The first location was located in the land of Contagious Diseases hospital, Department of Health at Din-Daeng Road, Phaya Thai district. The original area was approximately 10.29 acres. After the Department of Health had a successful discussion with Bangkok Municipality, the land over 2.37 acres that used to be a Garbage disposal area which located behind the hospital has turn up into the extended of hospital area. Therefore, total area of Mental Retardation hospital was 12.65 acres.
The reason for Mental Retardation hospital to be opened was based on the concerning of Mental Health Division, Medical Department, Ministry of Public Health on individuals with Mental Retardation. This is because there were many children with mental retardation at a time and the prediction of increasing rate was high. As lots of evidences from many hospitals under Medical Department networks including Mental Health hospitals, General Health hospitals, and also University hospitals, many numbers of children with mental retardation were found. For example, Mental Health hospitals both in rural and urban areas reported at least 100 patients per year who were children with mental retardation and at least 5-6 beds were occupied by those children. Moreover, there were a lot of related problems over other government service sectors such as students who could not learn though there were in primary school as apparently there were 1-2% out of school age children have mental retardation. The Department of Juvenile Observation and Protection also reported 33% of children with mental retardation were under their protection.
Some of them were considered harmful to society. For example, in 1957, 12 years old child with mental retardation light up matchsticks while parent was working outside. Though the child was with nanny, she was busy ironing clothes. The lighting matchsticks accidentally dropped on a pile of papers so then the wall nearby became on fire. Nanny didn't realize until some neighbors shouted out about it which was too late to control the fire. That incidence damaged property approximately 5 million baths. Furthermore, there was a report presented that individuals with mental retardation were commonly found at bus stop, unemployed care center, and believed that there were more in some families and Buddhist temples.
Professor Font Sangsingkaew who was being on his final position as Permanent Secretary Office of the Permanent Secretary at a time was concerning in the services for future individuals with mental retardation. Therefore, he supported Roshong Thusnanchalee, M.D. who was one of medical doctor in Mental Health subdivision to study on Mental Retardation subject at England in order to prepare services for those individuals. Since 1962 and after Professor Font Sangsingkaew was a Deputy of Medical Department, he also supported another one, Vanrunee Komkris, M.D. who was the second Director of Rajanukul hospital to be trained on mental retardation specialized during her study aboard from 1958 to 1962. Sangad Plengpanich, M.D., the Director-Deneral of Medical Department at a time, was approved the idea. It could be said that both Professor Font Sangsingkaew and Sangad Plengpanich, M.D. played an important for the establishment of Mental Retardation hospital.
An appropriated time to open Mental Retardation hospital was hardy decided, this is because Thailand was facing political and economic problems throughout. The construction plan had been proponed even though Mental Health Subdivision had prepared approximately 23.72 acres of Srithanya hospital at Nonthaburi province for its purpose. As the result of Cholera outbreak in Phra Nakhon Sri Ayutthaya province and the Prime Minister General Sarit Thanarat realized that the location for Contagious Diseases hospital was also within the area for becoming Mental Retardation hospital therefore he reconsidered about its immediately. He ordered His Excellency the Minister of Public Health at a time to find new location for being Contagious Diseases hospital within 15 days. Consequently, the original exchange idea between Contagious Diseases hospital and Mental Retardation hospital have been done under the approval from His Excellency the Minister of Public Health at a time. The construction of Mental Retardation was started in 1959 then on 16th June 1960 was the historic day of accepting to be Mental Retardation hospital.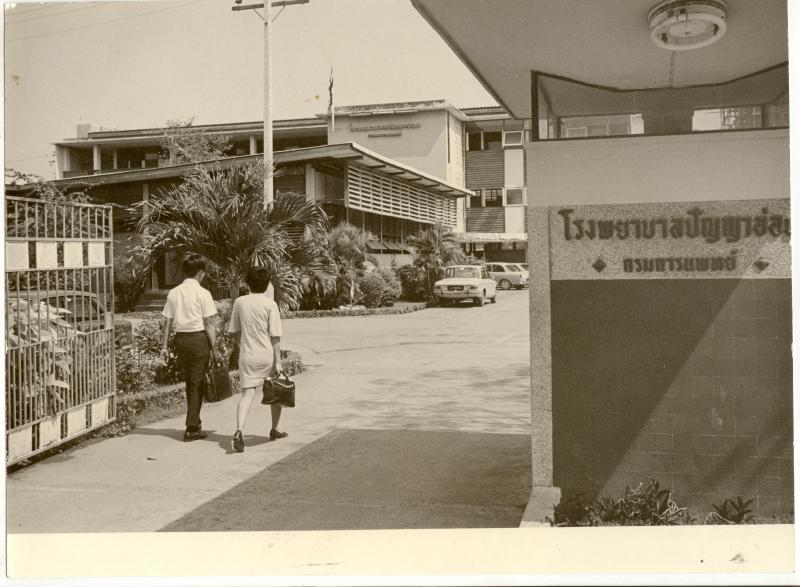 The opening of Administrative building or the official opening ceremony was on 21st March 1962 which inaugurated by the Prime Minister General Sarit Thanarat. During 1960 to 1962 the hospital already had some buildings that was enough to care for individuals with mental retardation. Therefore, since 14th July 1960, the very first 20 patients had been transferred from Somdet Chaopraya hospital to be under treatments and to be trained here in order to prepare the understanding of stuffs on how to deal with those individuals.
In term of naming for the hospital, Professor Font Sangsingkaew who was a Deputy Director General at a time suggested that using simple words as "Mental Retardation" without any Sanskrit or Pali vocabulary that need to translate later into Thai meaning would be easier for everyone. Since everybody was agreed so then Mental Retardation hospital had been named.
Out-Patient and In-Patient Ward were operated as core services for children with mental retardation Those individuals were all have appropriate cares such as training, treatment or examination for its cause.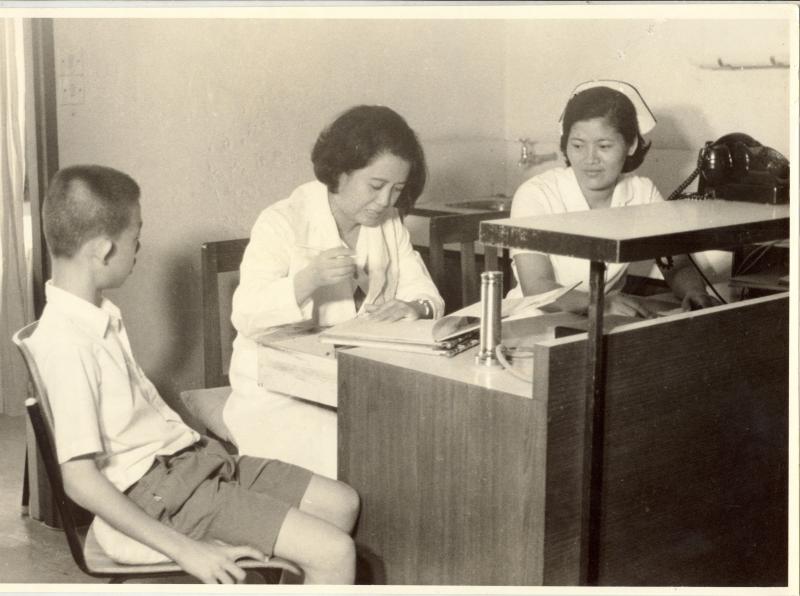 For the training program, in the first year, Mental Retardation hospital operated only one classroom which approximately 6 to 7 students joined in. The classroom came from the separation part inside In-Patient Ward. Only two nurses were in-charge for teaching since teacher positions had not been defined. The principle for the teaching was to train those students to be aware of their environment and to have some activities during the day. Ministry of Education send Educational Supervisor to visit the hospital. The teaching been criticized as inappropriate activities to be a school. The hospital greatly understood and accepted all those comments for further development.
Two years later, the school expanded into three classrooms. There were vocational certificated and high vocational certificated educators participated for teaching along with nurses. In 1963, Phrabat Somdet Phra Paraminthra Maha Bhumibol Adulyadej (Rama IX) bestowed a set of the royal private film during paid a visit to Malaysia, Australia and New Zealand to perform on public for raising fund to build school for children with mental retardation and also bestowed name as Rajanukul School. There were 10 modern Thai style classrooms which had well comments from both national and international, some would like to follow its style. Many numbers of teachers from Ministry of Education were sent to teach at the school either one or two continuously.
Later, one million baths were granted for more constructions of the hospital. Therefore, teaching environment was more convenient and more complete to be a school.
There were three main principles for teaching process which were (1) to teach children with mental retardation to perform their self-help activities, (2) to assist them to adjust themselves to social situations and (3) to teach vocational job in case some of them were interested in or be capable of some specific activities.
For hospital services, boys and girls were treated separately. Since the hospital had budget for more constructions, children with mental retardation comorbid with physical disabilities been separated in another specific building in order to protect them for innocently doing unwanted behaviors to others. Additionally, Physical therapy was performed especially for the one who had comorbid with physical disabilities which their Physical therapists have to be more patient and provided more specific techniques to work with than those without.
For children with Mental Retardation who also had physical sickness and needed treatments, the hospital provided one building for this purpose in particular. Proper treatments were performed similar to other typical hospitals. To separate those who had infection diseases from those without was the early protection for its spreading. They been returned to their original training building after fully recovered.
In 1965, Mental Retardation hospital corroborated with the Foundation for Helping the Mentally Retarded Children under the Royal Patronage for the construction of "Darun Pattana Building". The building provided 12 beds for children with mental retardation age 4 to 7 years to be trained as a Day Nursing care.
At those time, there were 300 children with Mental Retardation who occupied beds in the hospital. Later extended to be 450 beds under treatment cared by 8 medical doctors. Medical doctor, nurses, nurse assistants, social workers, psychologists, teachers and technicians were responsible for their own duty. There were above 60 professional practitioners, 169 person including general workers in total.
For vocational training, originally the hospital provided a small vocational workshop inside hospital's kitchen which covered by galvanized roof. Housework and simple repairment tasks were performed including laundry as well as kitchen-hand tasks. Moreover, a small number of fish and chicken been feed. Later there were three workshops therefore more vocational tasks were provided such as carpenter, swordsmith which trained to be able to do welding steel, basket-making (wire-doormat, bed rug using hemp sacks or jute etc.). All those products been selling in many exhibitions or charity events then it became the hospital incomes.
In that year, the hospital considered various tasks for training as vocational jobs to children with mental retardation. Therefore, workshop in Bangpoon sub-district, Prathumthani province were established which its area was approximately 7.90 acres. The workshop aimed for those children to be trained to be able to do farming, gardening and animal or fish raising. During those time the construction been build in a hurry in order to transfer them to be trained over there. Later, one more workshop was established as a Female Rehabilitation Center in Klongkom sub-district, Bangkapi district.
For the development of Mental Retardation hospital, it would not be completed without mentioned one important organization that is the Foundation for Helping the Mentally Retarded Children under the Royal Patronage. Originally, after the hospital been opened, treatments for individuals with Mental Retardation considered as a new service for Thailand. None of professional practitioners had been trained and lack of supporting resources, to rely only on National budget would not be best way to keep on its service. Therefore, the hospital initially contacted a group of honorable people for supporting hospital purpose. Those honorable people including Lady Ngamchit Burachat Chaya (a wife of the Ambassador Extraordinary and Plenipotentiary in India at a time), Mr. Boonma Wongswan (Permanent Secretary for Finance), Mr. Puey Ungphakorn (Governor Financial Bank of Thailand), Lady Sophon Wongsawan, Mrs. Sathaporn Suwanun (Educational supervisor under Ministry of Education), Mrs. Phalit Tassananchalee (secretary of the Foundation for Helping the Mentally Retarded Children), and Roshong Thusnanchalee, M.D. Then the establishment of the Foundation had been initiated. After it been operated, the Foundation made a request to a Thai monarch for a set of Royal private film to perform for raising funds for Rajanukul school. Many school buildings and hospital equipment been paid by the Foundation such as preschool building, building for selling products from children with Mental Retardation, roof playground named Kijjathorn Hall, etc. Moreover, water tank and toys for playground were also included. For social charity, the Foundation raised funds from many schools, provided cloth for poor children with Mental Retardation, bought 25 fans to be in bedrooms for children with Mental Retardation so then they could sleep well. The Foundation also performed home-visit for families of children with Mental Retardation in order to eliminate their poverty and worries. The good deeds of the Foundation that have conquered without demanding anything in return. As a result, Phrabat Somdet Phra Paraminthra Maha Bhumibol Adulyadej (Rama IX) granted His Majesty's personal property for the Foundation welfare funds for 30,000 baths. Aside from that, Somdet Phra Nangchao Sirikit Phra Boromarajininat, the Queen Mother, accepted the Foundation into the royal patronage since then.
Professor Font Sangsingkaew who was the initiative of the established of Mental Retardation hospital in Thailand. He made it well-known as being the first hospital for individuals with Mental Retardation among Southeast ASIA just right after Japan. The hospital was interested by many countries nearby at a time. Later some countries sent over some of their stuffs to be trained here at the hospital.
In 1979, Yongyuth Sajjawanit, M.D., who was a Minister of the Minister of Public Health realized that Mental Retardation hospital had been developed and well accepted therefore it was a time to be re-named. He made a request to a Thai monarch for the new name as a blessing for the future. Consequently, Phrabat Somdet Phra Paraminthra Maha Bhumibol Adulyadej (Rama IX) ordered its name as Rajanukul hospital instead of Mental Retardation hospital on 22nd April 1979.
Rajanukul hospital had been well developed and expanded into 17 divisions with 494 patients. However, limited number of patients with Mental Retardation cloud be provided rehabilitation by the hospital. There were remained 300 people on waiting list at a time which approximately 100 were severe cases. Of those individuals had not been included the one in community who lack of opportunities to be served in the hospital. Rajanukul hospital was well aware of this huge demand and took it seriously. Therefore, policy to improve and to extend the services were under consideration. To serve the services within its communities as to comply with the Public Health Development Plan No. 5 (1982-1986), the project of Mental Retardation in community had been initiated on 1st October 1984. Aiming for home-based helping the one who had Mental Retardation by sending over Mental Retardation community care team for the services. The team including medical doctors, nurses, social workers and other professional practitioners. They would provide recommendations and supports to family in order to train and care for those individuals at age-appropriated development. Another aim was to prevent and to educate society on the understanding of Mental Retardation. Therefore, community could help each other to care for those individuals rather than merely waiting for services from Rajanukul hospital. To follow primary health care strategy, Rajanukul hospital opened Rajanukul Development Center in community which located in Charoenkrung neighborhood on 1st June 1984. Community Mental Retardation Project, Din Daeng Youth Center, another community service, was established on 1st October 1985 under corroboration with Department of Public Welfare and Child Aid Fund. The aim of those two Centers was to provide early stimulation in newborn with Mental Retardation and preparing for those preschoolers in both communities.
In addition, Mental Retardation care in community were also supported and corroborated with other government and non-government sectors that related to Mental Retardation. Rajanukul hospital provided training course for professional practitioners and sent over Mental Retardation care team for providing helps among Disability Rehabilitation Centers and also local Rehabilitation Center for individuals with Mental Retardation.
Within the Public Health Development Plan No. 5, Rajanukul hospital had a plan to support and to corroborate with the Hospital Centers under Office of the Permanent Secretary, the Ministry of Public Health, the Bangkok Public Health Service and other non-government organizations. Aiming for expanding services in Early Child Stimulation to newborn with Mental Retardation and those preschoolers on both Central and provincial areas, cover the whole Nation.
In term of prevention, apart from conducted research studies to examine the cause of Mental Retardation, Health Education services also been educated to the Thai citizen. Therefore, the cause and the prevention for developmental and intellectual impairment would be well understandable. Additionally, the corroboration among Mental Health Division, Medical Department to combine Mental Health and developmental and intellectual impairment to transfer services onto Primary Health Care Service and Community Mental Health could expand the prevention onto rural areas. It acquired over 25 years for developmental and intellectual impairment services to achieve its community.
***Note: Over 12 years that "Mental Retardation" had not been used in Medical aspect and Public Health care. However, to date, World Health Organization is using Mental Retardation as to mention this kind of individuals, though universal is using Intellectual Disability or ID as its initial. Currently, Medical doctors are not using the term "Mental Retardation" to communicate with child and family as it might imply to negative meaning and it is too strong stigma meaning.