Rajanukul Institute History: Revolution from Past to Present
Phase 1: Intellectual Disability Hospital (1960-1979)
Intellectual Disability Hospital program, one of the programs for economic and social development programs of the First National Public Health Development Plan of the Division of Hospitals for Mental Diseases, Department of Medical Services, MOPH, had been approved for construction since 15 June 1960 onwards on the area of over 26 rais (approx. 10.27 acres) of the Hospital for Communicable Diseases under the Department of Health. Later on, the Department of Medical Services had requested the Bangkok Metropolis Municipality to lend 6 more rais (approx. 2.4 acres) of the garbage disposal area at the back of the Intellectual Disability Hospital at that time. Thus, the total area of hospital became 32 rais (approx. 12.6 acres) thereafter.
Regarding the name of the hospital, professor Fon Saengsingkaew, MD., then deputy general-director of the Department of Medical Services was the founder who named the Intellectual Disability Hospital without any Pali or Sansakrit lexicons that needed further interpretation. Everyone agreed upon the name "Mental Retardation Hospital" since then.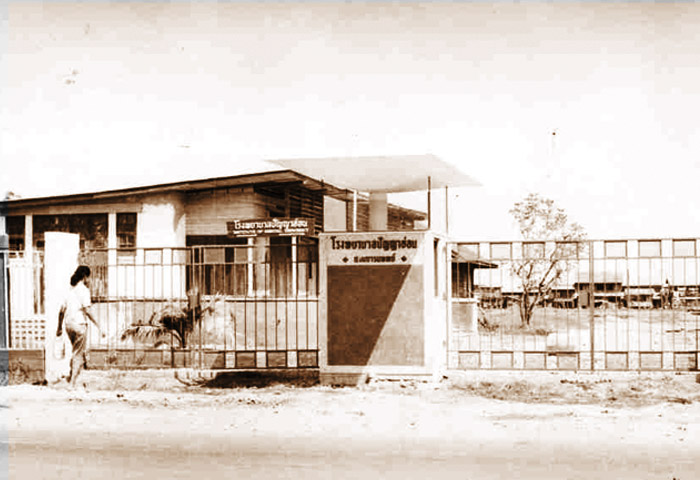 The piece of land for the construction and establishment of the first Intellectual Disability Hospital in Thailand was handed over on 16 June 1960. Roschong Tassananchalee, MD. was appointed as the first director of the hospital. It was officially presided by Gen. Sarit Thanarat, then the prime minister. Initially, 20 intellectual disabled persons from Somdej Chaopraya Hospital were transferred to be treated and rehabilitated, 5 more were later added making the total of 25 patients with the main purpose of providing skills training for hospital staffs to acquire knowledge, understanding and treatment ability to restore the intellectually disabled people at that time.

Phase 2: Rajanukul Hospital (1969-2002)
After two decades of service, the word "Mental Retardation" became well-known. The minister of Public Health Yongyuth Sujjavanich had respectfully requested for a royal name of the hospital to be of great fortune forever. His Majesty the king dubbed the new name as "Rajanukul Hospital" on 22 April 1979. It was a specialized hospital that provided multidisciplinary services from diagnostic examination to treatment, prevention, health promotion to rehabilitation only for the intellectual disabled individuals as well as became a training and educational visit site for external and internal, domestic and overseas relevant personnel of MOPH.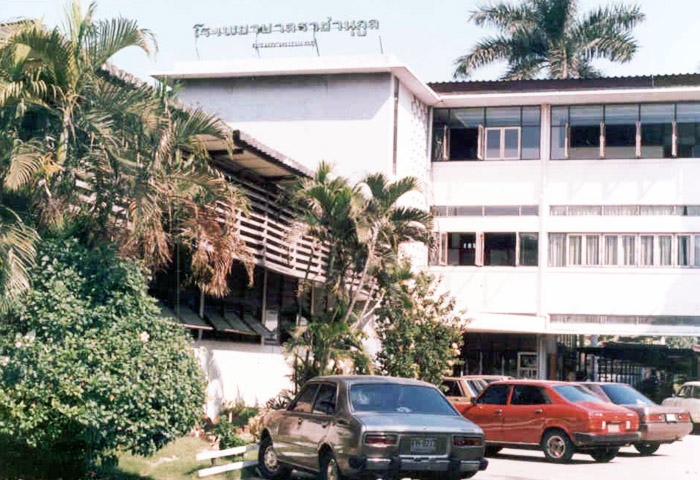 Operations
Operations were divided into 2 sections below:
1. Out Patient Department (OPD) offered examination, diagnosis, prevention, treatment and consultation for parents or guardians on raising their off-springs with intellectual disability conforming to academic principles.
2. In Patient Department (IPD) was intended to rehabilitate the intellectual disabled patients in all areas such as medical, educational, social and vocational aspects.
Masterpiece Achievements
1. Model of infantry early intervention (from birth – 5 years)
2. Education: established the first special school in Thailand
3. Research & Development on state of intellectual disability in Thai society to explore the causes and preventive measures specific to intellectual disability state.
4. Proactive service to the community for the intellectually disabled individuals to expand services into community hospitals throughout all regions of the country
5. Technologies manipulated to the skill development training for persons with cognitive impairment
6. Establishment of model ward called "Family Ward" for special child's family
7. Model of "Intellectual disabled persons' hiring trial program" and Pal Shop
8. Academic development on international cooperation such as: With the support of speakers in intellectually disabled persons' care in community for health care personnel, teachers, guardians, sitters, etc. from Inter Aid Asia headquartered in the united States of America Collaborative program between the University of Wales Institute of Cardiff, UK
Phase 3: Rajanukul Institute (2002- present)
Resulting from the bureaucratic restructure program on 2001, Rajanukul hospital has reorganized new missions under the Administration Act No. 5 according to the ministerial rule B.E. 2545 to upgrade its status from "Hospital" to "Institute" and determined its vision, missions, philosophy and slogan or development policy as follows:
Vision (2003-2006)
"Academic Leadership, High Quality of Services for Child Development and Intellectual Disability in Southeast Asia, Personnel's Happiness and Customers' Satisfaction"
Missions
1. Responsible for development to be an academic center for child development and intellectual disability
2. Tertiary holistic service for intellectual disability
3. Transfer of knowledge and technologies in promotion, prevention , treatment , and rehabilitation in intellectual disabilities.
Therefore, the institute had followed its determined missions for 4 years (2003-2006) and found that mental health of children and teenagers had consistently changed to social trend and globalization as well as the word "Mentally Retarded" had yet made parents or guardians sensitive and become a sin for children as well.
Thus, its vision and missions were later reviewed in 2007 to conform to the changing situations and in compliance to the strategic plan of the Department of Mental Health. So its new vision and missions had then been adjusted to more positive expression of the intellectually disabled individuals and made its operations to cover all groups of children- normal children with possible risks of development, cognitive and mental health problems and a group of children with intellectual, developmental and mental health problems.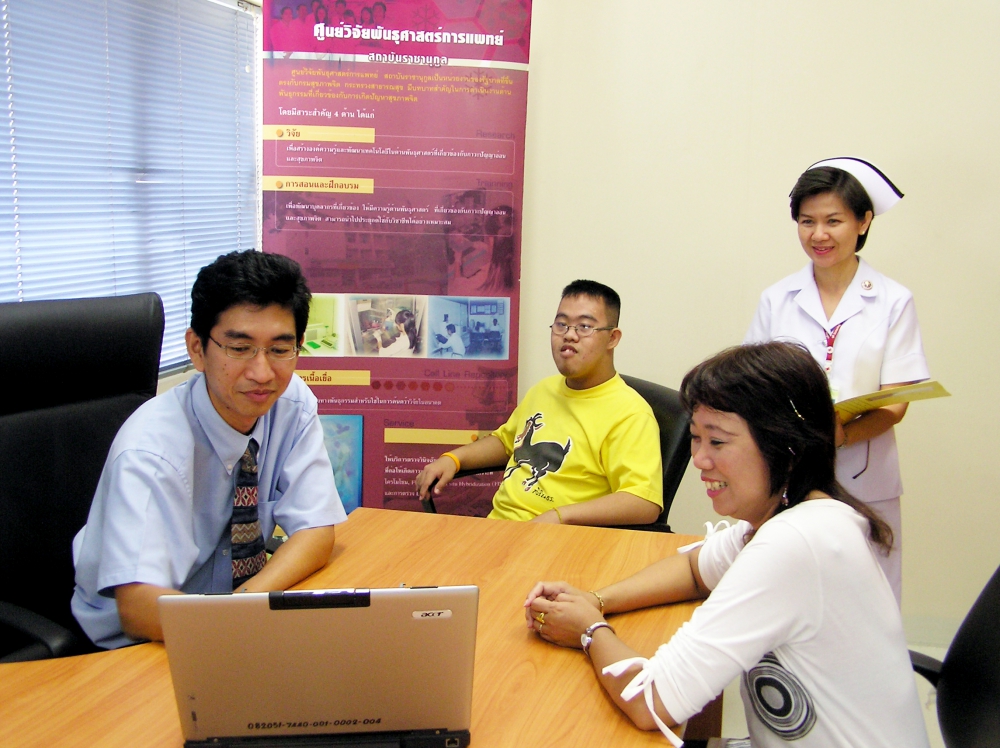 Vision (2007-2011)
"Rajanukul Institute was the Academic Leader, Service of Quality for Child Development and Intelligence in Southeast Asia, Personnel's Happiness and Customers' Satisfaction"
Missions
1. Responsible for development to be an academic center for child development and intelligence
2. Tertiary holistic services for child development and intelligence
3. Transfer of knowledge and technologies on promotion , prevention, treatment, and rehabilitation for child development and intelligence
Nowadays
Later in 2012, Rajanukul Institute arranged its strategic plan according to the development framework of mental health development tasks and strategic plan of the Department of Mental Health under the 11th Economic and Social Development Plan (2012-2016) as detailed below.
Vision (2014 - Present)
"Rajanukul Institute will be the center of excellence for Intellectual Development of Children at the National Level"
Mission
1. Develop to be a center of expertise in development and intelligence
2. Improve services in Super-specialist level of holistic development and intelligence
3. Enhance the roles of strong networking alliances in development and intelligence
Strategic Issues:
1. Develop to be the center of excellence of Intellectual Development
2. Develop to be expertise the center of Intellectual Development Service at high level
3. Enhance the cooperation with alliances in operations for Intellectual Development of children
4. Develop the quality of management system to meet international standards.
Core Value:
"To develop quality of services, team working, with ethical and lead the organization to be Center of excellence for Intellectual Development of children"
Rajanukul Institute's Policy for 2014-Present
"Rajanukul Institute is committed to maintaining its position as a Center of excellence in academic and mental health services with regard to Intellectual Development through close cooperation and collaboration with mental health alliances to achieve its goals, so that people with Intellectual Development disability are able to live independently to fullest potential with their families and communities.".